---
So everyone on the planet must know that the new iPhone 3G is coming out next month and I for one will be getting one. So slender and sleek, refined and 3G. It's also cheap as chips – so why wouldn't you get one?
I was wanting to see some more images of the phone (I do this with everything I buy – so that by the time I actually own it, it's like I've had it for 10 years) just to familiarize myself with it. So off I trumbled to Google, entered 'iphone' and hit the 'search' button.
207 million articles returned. Yeah – I don't think I'll move past the first page (who ever does?). Loads of places to go see the phone but which one to choose?
I then let my eyes move away from the usual hotspots to the left, and in order to try being the exception on one of those 'webpage heat map' thing'im'a'jigs – I took a look at the sponsored links to the right. Shocked – I found that the first link for the keyword 'iPhone' is held by one of the phones biggest rivals. LG.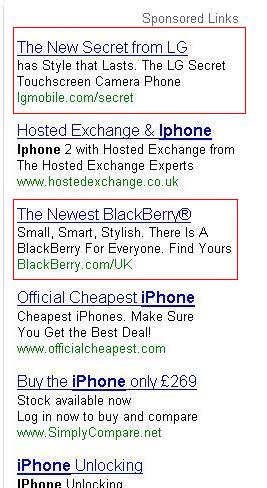 LG are currently marketing their 'Secret' phone. No its not actually a secret – that is just the name of the device.
I don't know what they paid for the 'iPhone' keyword but this is a little underhanded in my opinion.
Not to be outdone by the iPhone craze, Blackberry also jumped in on the keyword. They obviously don't value their device as high as LG does because they only spent enough to be position 3 – but still, high enough.
You could pass this off as 'ya gotta do what ya gotta do', but why don't these companies just make better phones? All blackberry's are ugly bricks. The LG Secret, although nice, just doesn't come close.
These types of companies, Nokia included, need to start making their software more plugable to different technologies so that they cannot be stepped on by a newcomer, like Apple with the iPhone. Nothing Apple has done is innovative. The technology has been there for years. It's just laziness that has allowed a competitor into the market and they only have themselves to blame.
Categories: Uncategorized